What kind of services do we usually need for home/personal usage? Having just a personal computer is long gone. We use tablets, smart phones, storage systems (NAS), … and with all those gadgets we access numerous on-line services. Mostly we consume but also produce some content – images, videos, writings. Therefore we establish a need to have a central storage space. There are many cloud based storage providers aka on-line and if the speed and customization is not the issue just Google for the best price/performance solution. If you need a decent/LAN speed or/and you don't have a fast internet connection than you forget about cloud storage. If you need some additional services like: own web hosting, digital video recording, mail handling, torrent downloading, … with various automation than read further.
Research phase
Since I gave up buying a ready product I had to define scope for a DIY project. If you want a low power consumption than there are not many options. X86 based systems are usually more expensive or too power hungry so I look for an ARM based board. When it comes to ARM the most known mini is Raspberry PI which I am using for media centre. Since I already know the power of it I know that it's not good enough for this job. I quickly find out another promising option – Cubieboard, especially the newest Cubietruck. A 2Gb A20 with 8Gb Nand, gigabit NIC and SATA for 89 USD. Wo0hooo! I just have to wait a week to be released for sale, a month to get it from China.
Month later
It came. Customs + postage and handling came roughly 100 euro. Since I was planning to use a 3.5 inch 3T SATA drive which requires 12 Volts I also needed a proper PSU unit. I found one on Dealextreme and it's performing good.
The board came with pre-installed Android 4.2 and it was up and running in no time. My goal was to set-up a Debian Wheezy (latest stable) which I truly believe is the best options to run a server. Since there were no good image available I had to start a separate project. Result was fast, clean and stable Cubietruck Debian image. Project expanded and image download reach a few thousand downloads within two months.
On the side I made some tests regarding power consumption of the unit on the AC side. 1.7 Watts in standby, 3.3 – 5-5 Watts running with VGA / Net / HDD offline and up to 11 Watts with full system load and (3.5″) HDD running.
Final configuration
I will not write anything because you can see more from the map. The system can be recreated with the script below.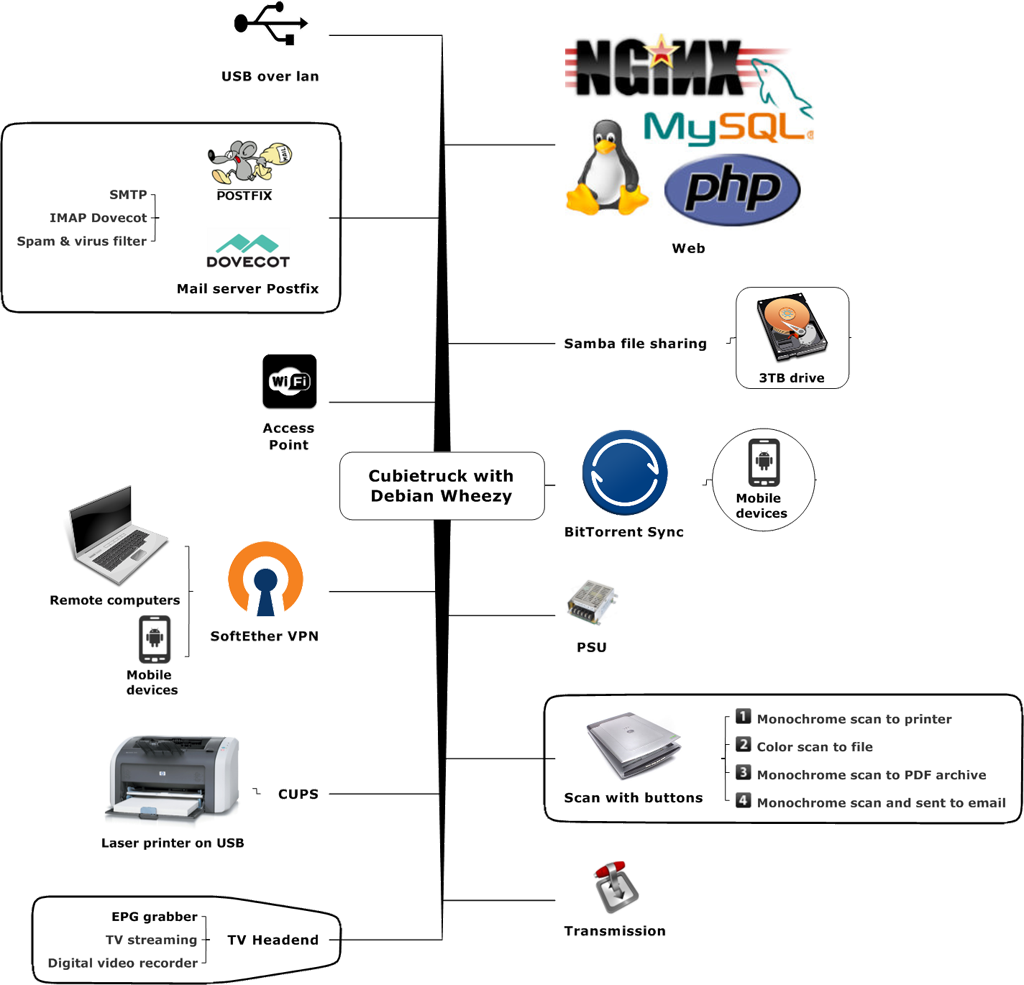 Acrylic case and some upgrade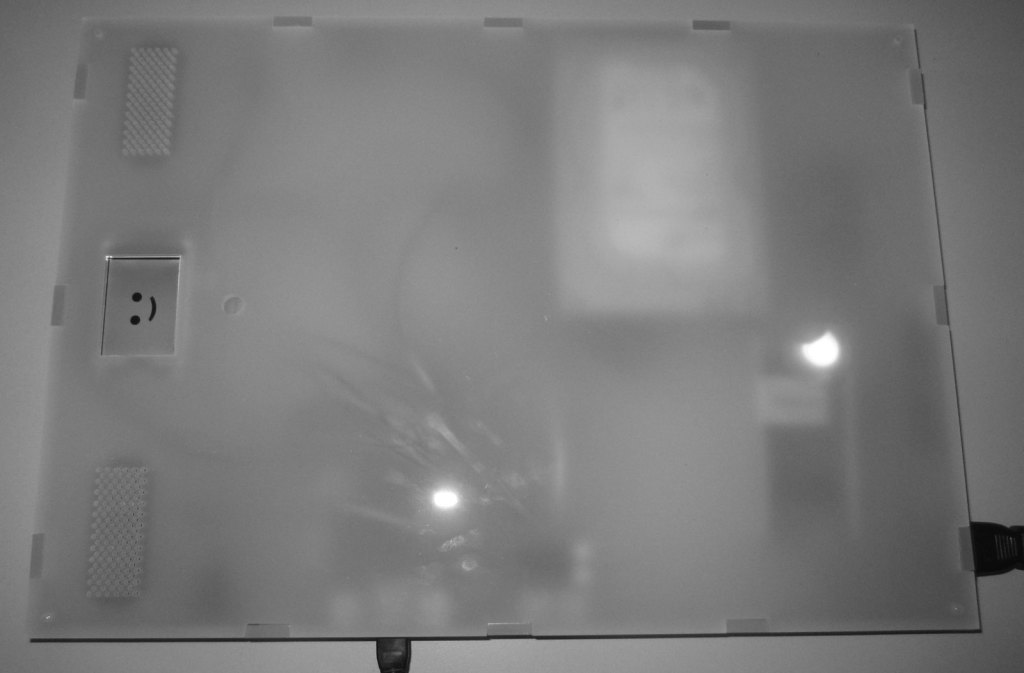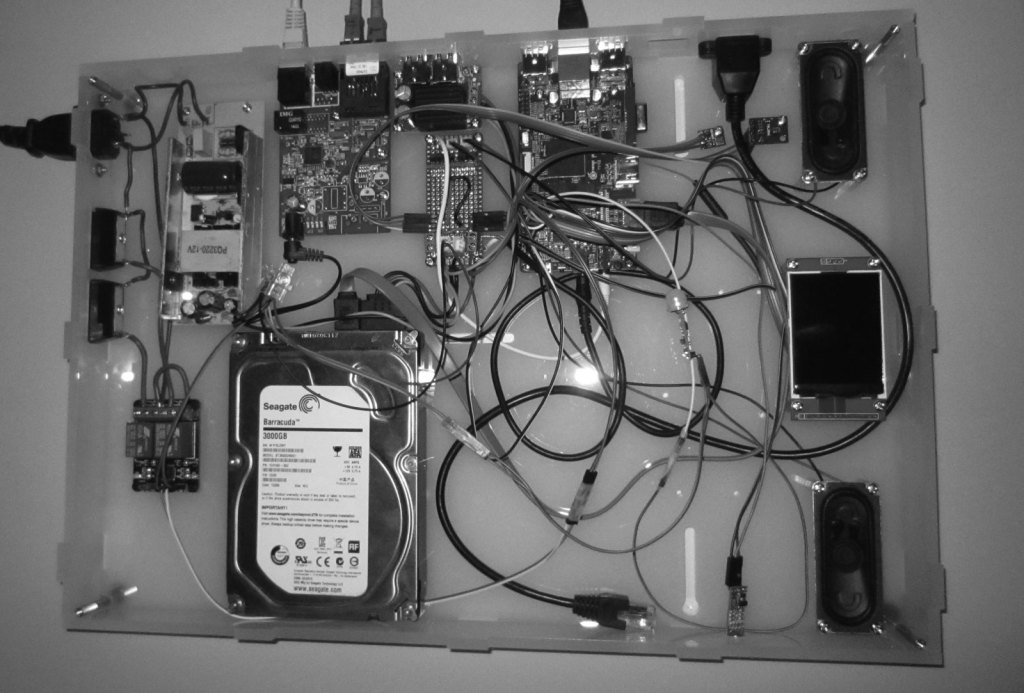 After months of protoboarding I finally made to design and cut an dedicated case. What's inside now:
Orange PI plus with 4 x powered USB hub, gigabit LAN, onboard AP
1000BASE FX/TX fiber optic media converter
4 x fast USB chargers
2.8″ TFT display
2 x 3W amplifier with speakers
3T SATA drive
2 x relay with EU/US socket
72W 12V power supply
2 x small PIR-based motion detectors
1 x inside temperature sensor BMP180
1 x illuminance meter
To do: one more ARM board for backup and firewall with battery – Olimex Lime, DHT11 humidity sensor and mount the case to the wall.
Install script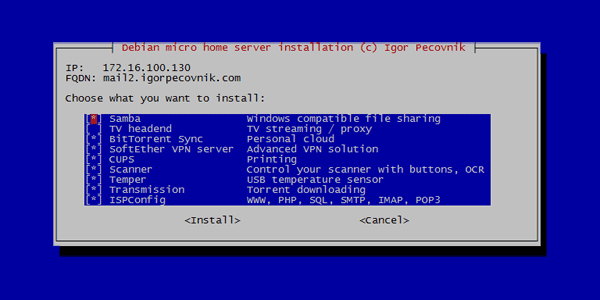 http://github.com/igorpecovnik/Debian-micro-home-server
ISPConfig can be installed only on Debian Wheezy / with this script.
Script is made for beginners while configuration part is not. Installation process is interactive and you have to set various things during install – mySQL password, SAMBA user+password+group, choose Apache or NginX, … Setting fixed IP address is recommended before start.
Good luck & have fun!
Server monitor under some stress test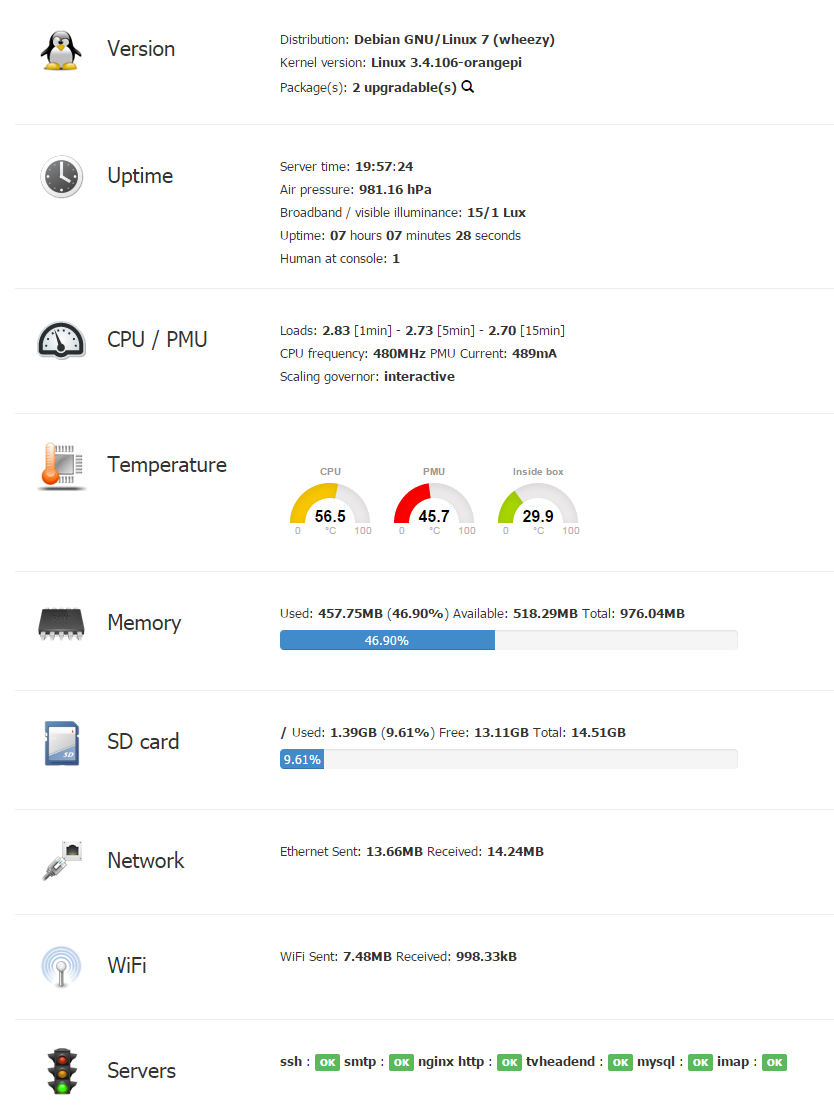 References
You may also like to check: